Frequently Asked Questions

Delesign Account +

What's The Difference Between The Senior Designer And The Graphic Designer Service?
How Does Delesign Work? What is the process?
Does Delesign Have A Referral or Affiliate Program?
How Can I Review My Past Receipts/Invoices?
How Can I Change My Credit Card Information?
How Can I Change My Email Address?
How Can I Change My Password?
Can Others Use My Account?
I Put My Account On Hold And Am Ready To Start Up Again. What Do I Do?
I Canceled My Subscription Earlier. I Want To Sign Up Again. What Do I Do?
Are There Long-Term Contracts?
Will My Designer Ever Be Switched?
How Can I Contact Support?
Bulk Design Requests

Design +

Can My Designer Really Create All of The Complex Designs Delesign Mentions?
How Can Delesign Be So Inexpensive?
Can I Use Delesign for Multiple Brands?
What Fonts Do You Use?
Best Practices and How to Help

Delesign Account +

Print Bleed
How Can I Download My Files?
Can I Organize My Queue Of Design Requests?
Using Go, Delesign's Client Platform
What Are The Price Differences Between Night and Day Schedules?

Design Scope +

Examples of Great Design Requests
Can Delesign Create App Designs?
Can Delesign Create Web Design?
Can Delesign Create Explainer Videos?
Can Delesign Create Animation?
Can Delesign Edit Videos?
Print Bleed
Can I Use Delesign In The T-shirt Marketplace?
Using Our Free Images

Subscription and Designer +

Can I Change My Delesign Designer?
What If Something Goes Wrong?
Print Bleed
How Can I Download My Files?
Can Delesign Help Me With My Presentation?
Typos And The Importance Of Proofreading
Sketching A Design Request
How Can I Select When My Designer Works?
How Can I Change When My Designer Works?
About Delesign

Company +

Delesign Recognized Holidays
Do You Have Any Sample Work?
Where Are Your Offices Located?
Who Can Use Delesign?
Official Scope Of Our Design Service
Our 15-Day No Risk Money Back Guarantee

Design Subscription +

Graphic Designer Scope of Service
Senior Designer Scope of Service
Can I Use Delesign For My Clients?
Who Can Use Delesign?
Do I Own The Creative Work?
What Does Unlimited Mean?
How To Sign Up For Delesign
Our 15-Day No Risk Money Back Guarantee
How To Make Great Design Requests
The clearer and more detailed your design request, the faster and more effectively your designer can work to provide you with the highest quality finished project. To initiate a new design request, simply login to your account on Go and select the option to submit your request.
Remember these three simple steps when submitting a design request:
Describe in detail
Select photos
Upload your assets
Check out some great and real design projects that our clients have created.
Describe In Detail
The more information you provide to your designer, the better. Remember that your designer is not a mind reader, and it is up to you to properly describe exactly what you are envisioning.
Vagueness in your design request may cause your designer to be confused and interpret your request differently than what you are imagining. To make your request clear, provide examples of what you like or of what you are looking for. You can also provide examples of what you don't like, or what you are not looking for. If you don't know exactly what you want, no problem, we'll be happy to provide you with some samples and ideas.
If you would like specific text to be included on your design, please copy and paste this text into the design request. For animation or motion graphics with audio, we require you provide us with the audio to use. If uploading an Adobe Illustrator file, for example, please remember to outlines all fonts and embed all photos.
We allow you to provide as much detail as you'd like in your design request. Take advantage of this!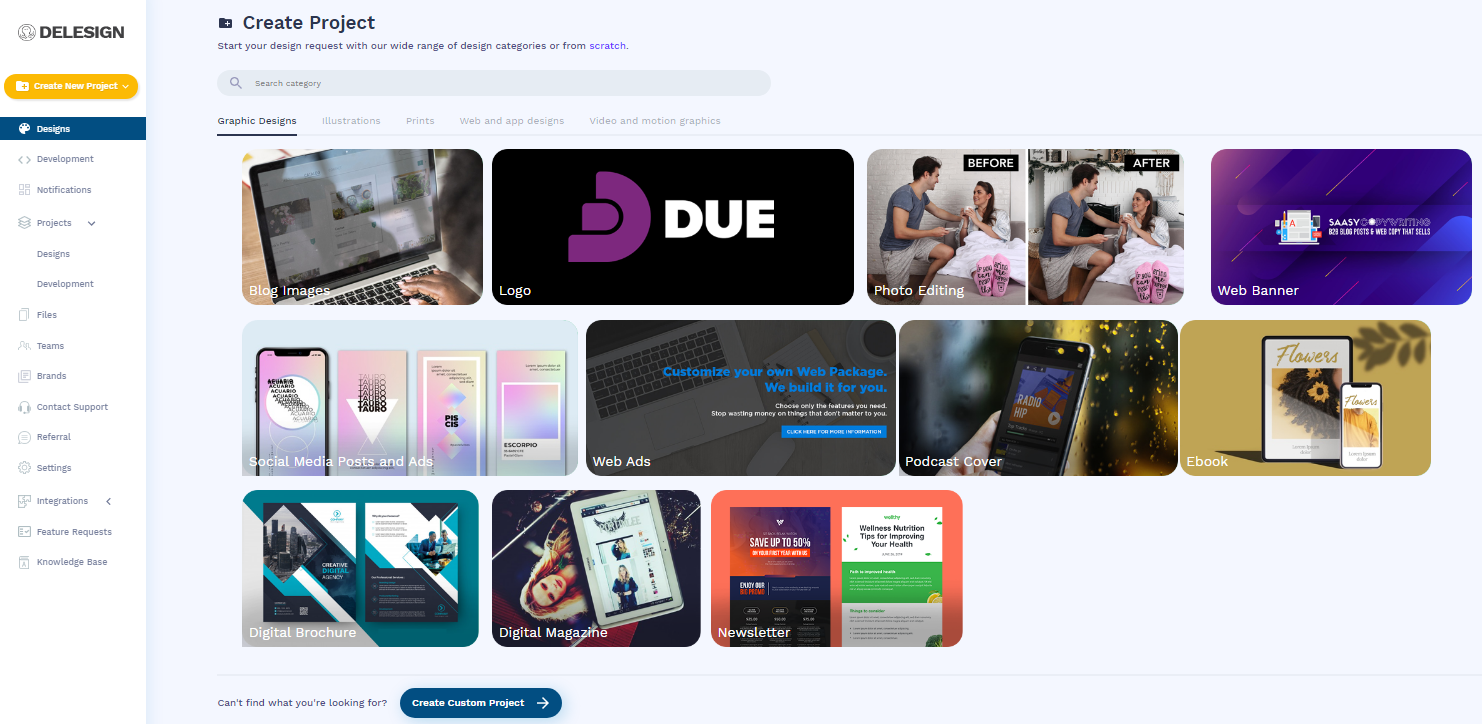 Select Photos
Sometimes your design projects won't need photos. However, if they do, you can provide your designer with royalty free images through our photo selector to use for both commercial and personal usage at no additional cost.
If you'd prefer your designer to use their professional opinion and select your photos for you, please tell your designer what types of photos you are looking for in the provided field. Your designer will then search through our photo selector to find such photos for you.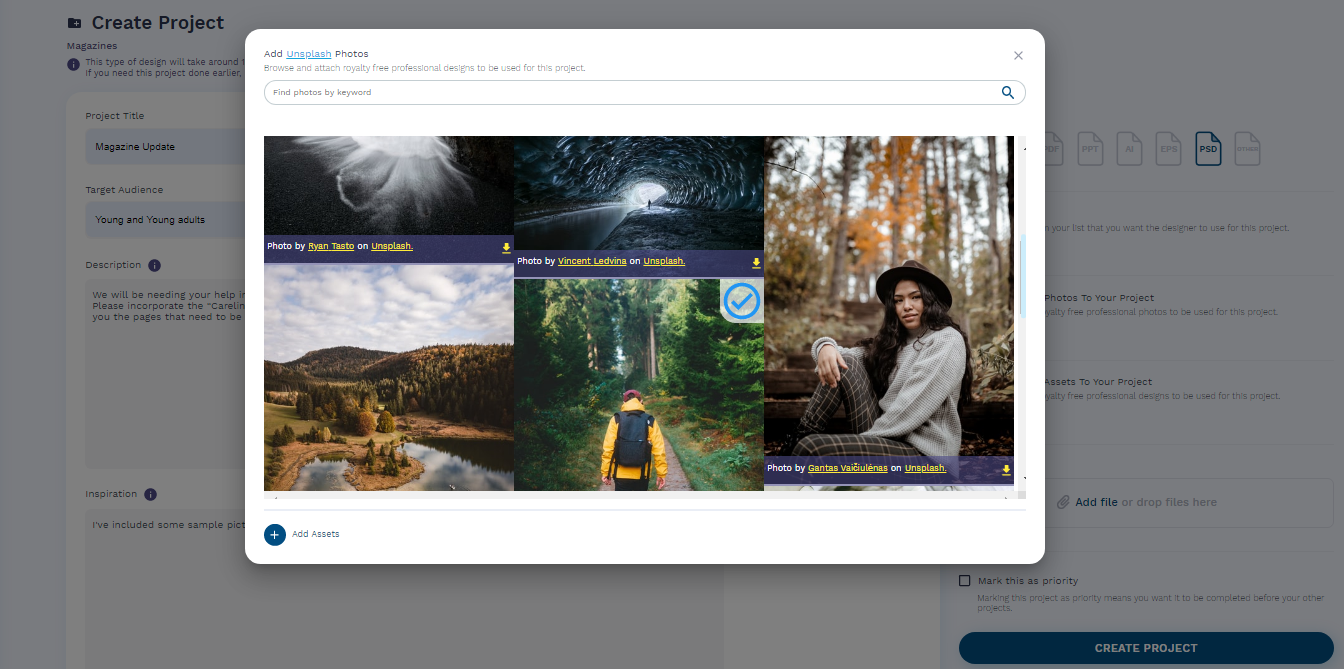 Upload Your Assets
The more information you provide, including assets, the better! Fonts, videos, pictures, sketches, logos, audio, or any other files that are relevant to your request can be included in your design request.
For each file, you can include any feedback or direction pertaining to that asset.
When you're ready, simply press Submit Design. Your designer will immediately receive your design request as well as all of the information you have provided, and get started as soon as possible.
We even provide a live demo of how our service works! You can access this video clicking on the link here.